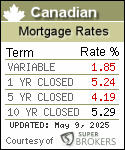 Choose a Mortgage Rate Box Size...
Pick the size that you think would best fit on your website. The large image will display fixed rates for 6 month, 1 through 5, 7 and 10-year mortgage terms with a variable rate. The smaller graphic will only display that variable rate with the 1, 5 and 10-year mortgage rate. The lowest mortgage rates available in Canada will automatically populate these images.

The custom mortgage rate box design applies to only the above sizes. There is no charge for a custom rate box. Please call our 24-hour technical support number if you would like to speak with someone directly regarding your website. Our toll free number is 1-866-530-5541.

Please note: Some mortgage rates may not be available to all Canadian residents. People living in smaller centres or remote areas of Canada may not have access to these mortgage rates. Super Brokers® mortgage rates are reviewed on a daily basis and are the most accurate and reliable mortgage rates in Canada.